The Beginning of My Travels
It could have been last week, I remember it so well. It had just rained outside. I was sitting in my dorm room with my new laptop computer and the glow from the screen filled the room. I was bored and decided to google my name "Ronda" (I probably should have been studying). The first thing that popped up was Ronda, Spain. My name was a town in another country! As silly as it sounds, I felt like I had confirmation, I was meant to travel!
My first year of college I was obsessed with Spanish. I wanted to learn Spanish like an actress wants to win an Oscar. My Spanish teacher in college had decorated the room with items from Mexico and it made an impression on me. I started dreaming of living in Spain and speaking Spanish.
Why I Travel Alone
After school was my chance to travel. Costa Rica was my country of choice to study Spanish (even though Spain remained on my list to visit). I didn't think too much about going by myself to another country. I had been reading about females doing "out of the ordinary" things since I was in middle school. In 8th grade I read about Jackie Pullinger who moved to the slums of Hong Kong to preach the gospel. I also read how Amy Carmichael left her family and country, and moved to India and started an orphanage. I read countless biographies about strong men and women who grew up and moved to other countries or went on incredible journeys. It seemed to me a very natural thing to do. I never once thought someone might go with me, I was excited to go by myself.
Of course the crazy thing about the internet is, you can find people to connect with, that you know absolutely nothing about. Then you travel to another country and meet them for the first time and by doing so, you are trusting your life with complete strangers.
Flying Out of the Country for the First Time
I found a tiny language school in Costa Rica online. I booked a flight to fly to another part of the world with knowing very little about where I was going other than a two page website with the information about the teacher and the prices. The internet was still new to me. In middle school we had a computer and I had wandered in and out of chat rooms, but staying with people you found online without any recommendations by people you knew? It was a little unheard of, at least to me, but especially to my parents. I am actually not sure how or why I got to go. I think I remember emailing a girl who had gone to the school and she emailed me back with a great review. So without a face or a phone call, I trusted this website and former student review, and flew to Costa Rica.
Arriving at the airport in Costa Rica was different than any other airport I had been to. When you walk outside there is a noisy crowd of people waiting for arrivals. Men come up to you constantly asking if you need a ride. I remember wanting to turn around and go back inside the airport. The noise and crowd made me dizzy, and after waiting in long line in customs, I was hardly excited to deal with that mess of people.

Traveling Alone in Another Country
There were moments of shear terror when I realized exactly what I was doing. During the week I stayed with a Costa Rican family and took Spanish classes. On the weekends I explored the country by bus, with no cell phone, no way of contacting anyone if I was in trouble. I barely spoke enough Spanish to cover things like bus times and bathrooms (and I consistently ordered the wrong thing at restaurants).
The first time I visited San Jose (the Capitol of Costa Rica) by myself I got lost several times. This was before smart phones, I lugged my Lonely Planet Guide with me everywhere. I also relied on my keen sense of direction (rolls eyes), and my flexibility when getting lost. Getting lost in San Jose was not fun. I remember trying to look like I knew where I was going, because I thought it would make me look less like a target for whatever might happen to a foreigner in an unfamiliar city. At one point I realized I was walking in circles, as I had passed the same fruit stand about 3 times.
I loved the liveliness of the city, but I was also overwhelmed with the unfamiliar roads and people, I couldn't completely relax. Not long after arriving in San Jose, I walked down a street that was so crowded I couldn't tell where the hand came from that tugged on my backpack. Somehow I grabbed one of the straps before it disappeared and held on. After nearly having my bag stolen, I gave up trying to explore and found the fastest way back to the bus terminal.
The Wonder of a New Culture
It's one thing for a place to be unfamiliar, but when the language and the culture are unrecognizable compared to your own it becomes sensory overload, but in the best way possible. Hearing a different way of saying things, seeing a different way of doing things, experiencing life being lived in an unpredictable manner to your own, and being able to process it completely alone is lovely.
I found myself thinking a lot, as I still wasn't able to communicate in an intelligent sounding way with most of the people I was around. I would walk down to the internet cafe where all the Tico teenagers hung out and check email (which took an hour because of how slow the internet was 12 years ago). After the cafe I would walk around town. Then maybe I would sit outside at the coffee shop, or go to one of the many convenient stores and buy tiny bananas to have as a snack. The most enjoyable thing for me to do was to sit and think and to observe the people around me, like it was all some sort of dream.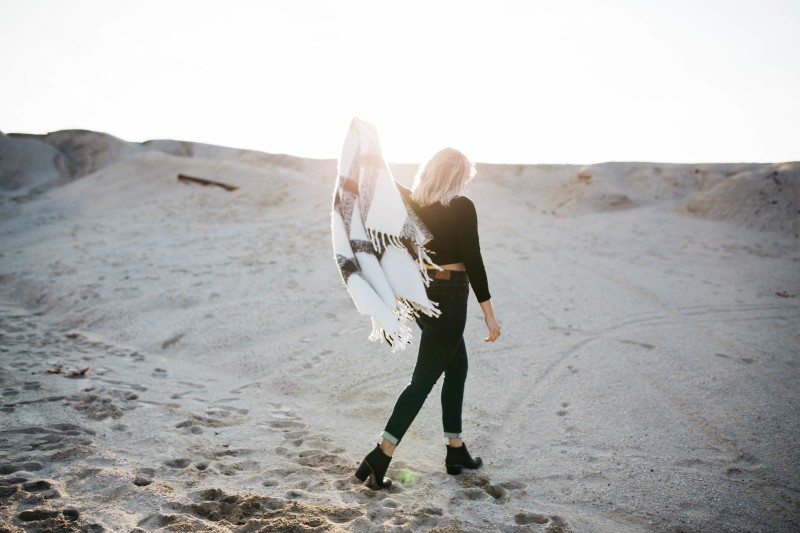 What I Learn from Traveling Alone
Since Costa Rica I've visited 5 other countries traveling solo. While I really don't believe it's for everyone, I love the freedom and the independence I experience traveling alone. It isn't always easy, sometimes it can be very challenging. I think that is the other reason I love it. It's an adventure, and though I feel a little selfish say this, it is my own adventure. I wouldn't change any of the travels I've had with my friends, they are some of my best memories! But I also wouldn't change the trips I've taken alone, I've learned a lot about myself and how I handle certain situations. Some people say you build confidence after traveling alone, I think it's true. If you are wondering what else you might learn you can read 5 Things You Learn from Traveling Solo.
Whether you travel alone or with a friend, traveling is one of the most rewarding and terrifying experiences you can have. I think the difficulties you might face are worth the wonder of the place you discover.
Talk to you soon,
Ronda