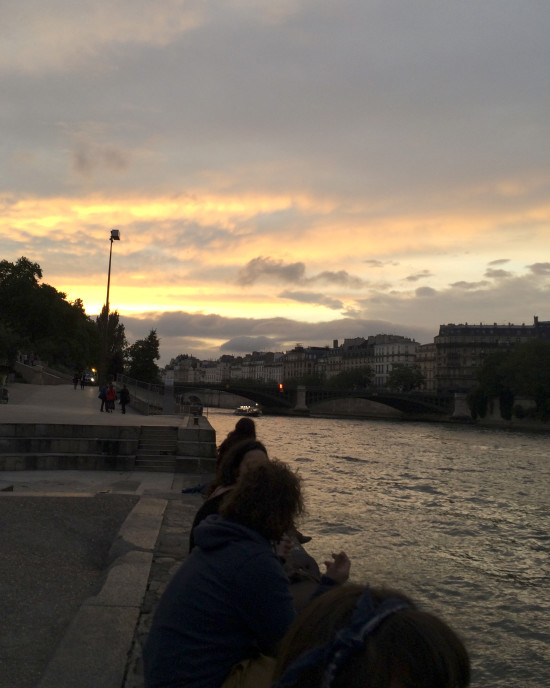 Paris is always a good idea. That's what I believe in my heart. It doesn't help that I have an obsession with French, mostly because to hear it is like listening to music, it's perfectly beautiful. I also don't understand any of it, so I am sure as any language goes, there are things I would not love about it. But for now I am still on honeymoon with the language, and I adore all the sounds that I can't make because they aren't in my own language. Anytime I write a post about Paris, I have to mention French, because it's one of the many reasons I love Paris.
I was able to spend 3 weeks in Paris a couple of years ago, so I am hardly an expert on anything Parisian. But one thing I did learn, is that evening picnics by the Seine are a favorite past time of some Parisians. Also in the summer it doesn't get dark till 10:00 pm. So your picnic can last all evening! I was lucky enough to learn about picnics by the Seine from my friend Gretchen who was staying in Paris when I happened to pass through there.
One of the things Gretchen suggested we do was an evening picnic by the Seine river. So we headed out around 7:30 in the evening to go to the store and stock up for the picnic. Items you need for a simple Parisian evening picnic? Believe it or not, it might be one of the cheapest things you do while in Paris, but honestly it's one of my favorite memories!

Items for a simple Parisian evening picnic by the Seine:
Baguette
Beer or Wine (or both)
Soda (if you don't drink alcohol)
Fruit
Cheese
You really don't need anything else! Add some lunch meat if you want to make a sandwich. After you visit the store for your picnic items, walk over and find a comfy spot by the river. It might be crowded, so don't be shy when looking for a place to sit.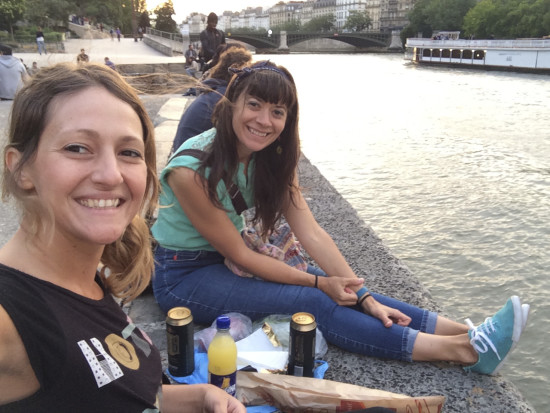 If you are there in the summer be sure and check out the dancing! People gather around the Seine throughout the week for pretty much any type of dance you can think of. A couple of dances we stopped to watch were Salsa and Swing. I wish I could have worked up the courage to dance with someone, but maybe I will next time I go.
Let's Bring Dancing and Picnicking to the States!
I know there are wonderful things about my country. I love the good old US of A, but why can't we be a little bit more…simple? Paris has this, I mean Paris is classy and chic, but it's also simple. The laid back gatherings of people outside to picnic and dance, not just for special occasions, but every week is such a creative idea. Imagine you are able to go to a party where everyone seems to be invited, and it's free! There is also a variety of dancing and music for you to choose from and people don't mind you coming out to watch. Someone has to organize it, that's for sure. But it's as simple as bringing a boom box and turning on some music and inviting your friends to dance. There weren't any live bands (I don't remember any at least). But all along the river near Port Saint Bernard you can find groups dancing salsa, swing, and rock (as well as other types of dancing).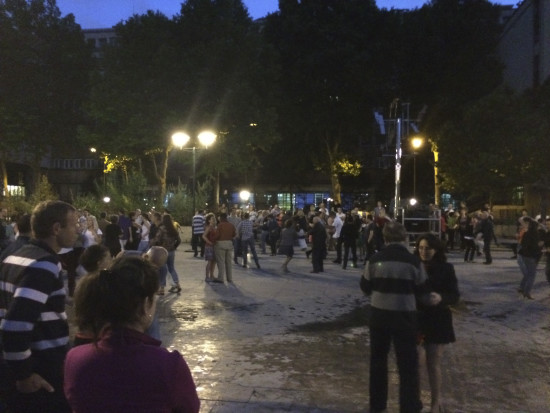 I think the dancing culture is severely lacking in the States. Dancing is not only for Prom, or banquets, sleazy expensive clubs or country dance halls (I am pointing my finger at you Texas). Why can't we take the time to get together each week for something so simple as dancing and a picnic? And I get it, I mean we have a lot of work to get done, there are parties every weekend, restaurants to try, clubs to go to, and bars to drink at. I get that we have our own way of meeting people and having fun, but I am a little underwhelmed by the amount of money we need to spend to do that .
If there is such a place in the States that has caught on to the whole picnic and dancing every week idea, please someone tell me about it! I want to go! Until then, I will have to imagine myself in Paris, sitting by the river, and dancing till the sun goes down.