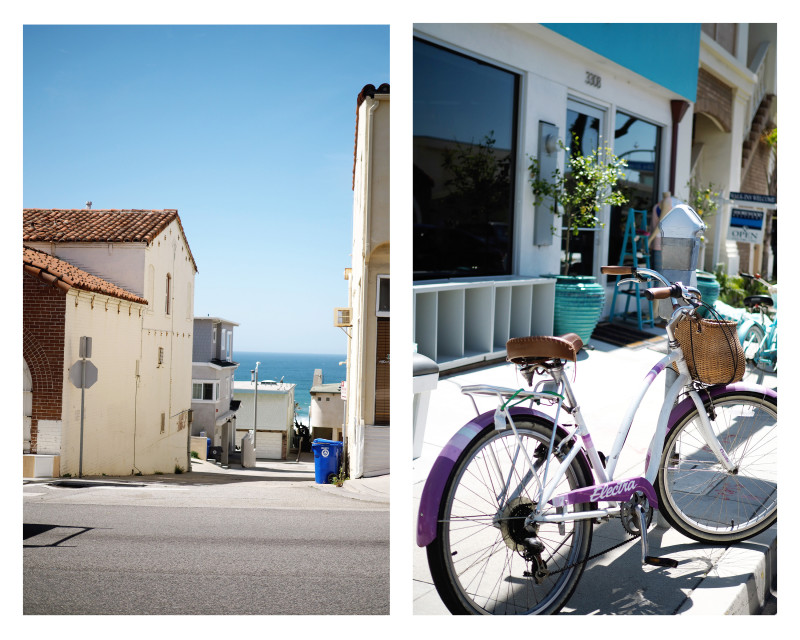 Feeling creative? Use your travel photos to create a photo story!
Photography is more than just a great activity to do when you feel creative, or when you want to be outside, or when you are just bored. Travel Photography is a way to tell a story. What's so unique about it is the photographer is unlimited in the way he or she can create and share their view of the world. Before going out and taking photos, think about what type of story you want to tell, think about the big pictures you might take, or the small details. When you put them together you can create a unique and beautiful photo story!
The great thing about traveling and being a photographer is you can decide on what you want to tell about your adventures. You can share a few details or you can share the big picture, or you can share both! I love using photos to tell a story. The stories I like to share the most are bright, happy, and fun. When you create a story with your photos, you will be able to tell what the story is about by just looking at the photos. When you choose photos to go in a story, there should be something that ties them together, like a theme or a color scheme.
Here is an example of the story of a beach trip I took by myself. I would say the photos speak of a summer afternoon and show escaping the busy life and enjoying the reality of doing nothing for awhile.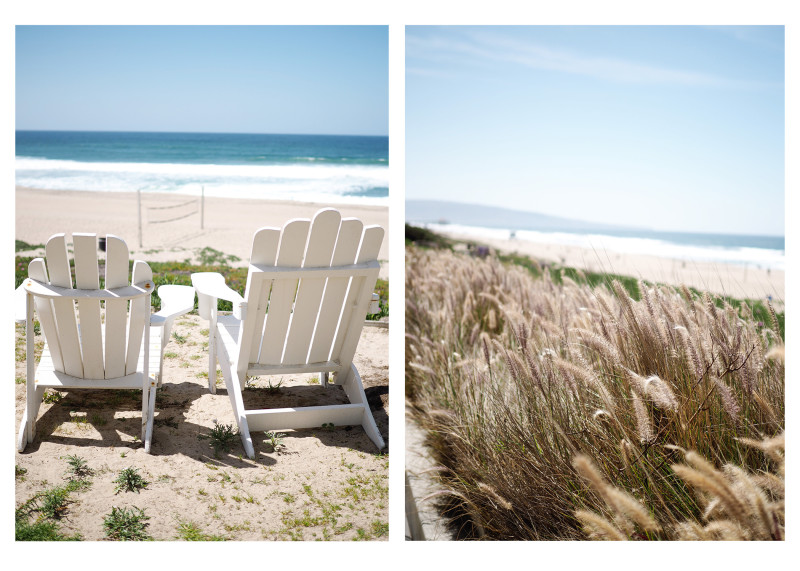 By adding another travel photo to my story I create a little bit more activity, but not much. Walking under a palm tree, then relaxing by the sea tells a slightly different story then just escaping.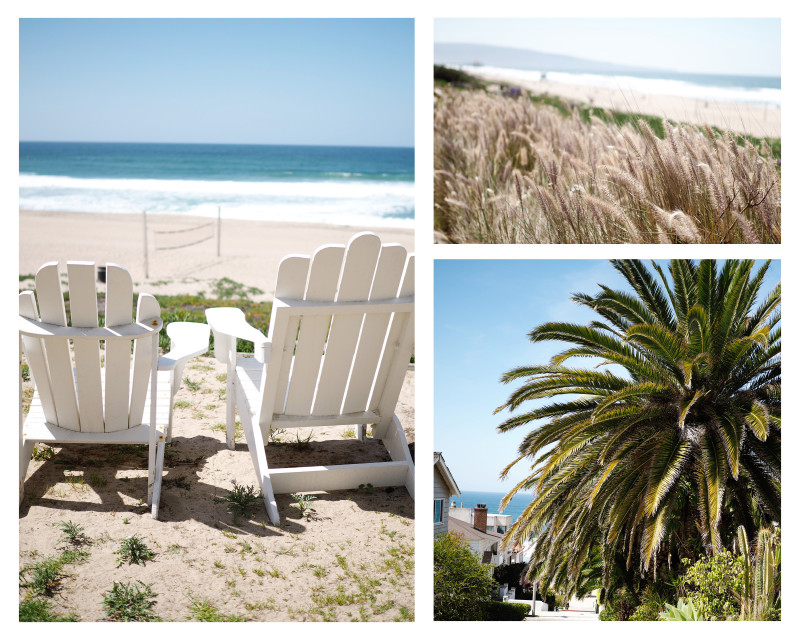 When you are traveling it's easy to forget to take photos of the details. You may get so caught up in the scenery, the landscape, and the architecture, that you forget to take pictures of the small details that make up your story. Well, I am mostly saying this because I forget! I am so wrapped up in big moments that I forget about those small details, and you'd think I wouldn't, I mean, I like to think of myself as observant. You can always crop a photo later to have a spotlight on something small, but it saves a lot of time and effort if you get the photos right from the beginning. Here is another travel photo story for you and again without any small details. (Note to self, get better at taking small detail photos.)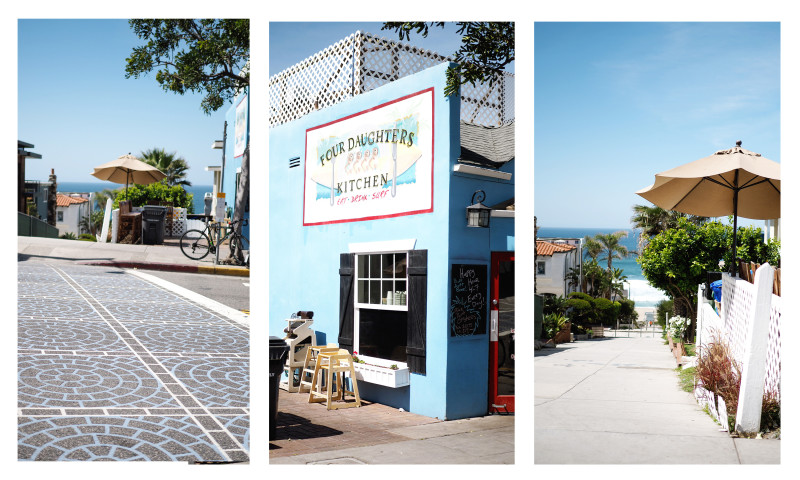 This story could be called "a walk around town" or something. I wish it included food from Four Daughters' Kitchen, but I didn't have time to stop and eat. Maybe next time!
Use Canva to create your photo stories from your travel photos.
To create unique and beautiful photo stories I use Photoshop and Canva. I use Photoshop mostly but I love Canva. If you have never used Canva before it's free and easy to use. If you go to the frame section on Canva you can easily upload your own photos.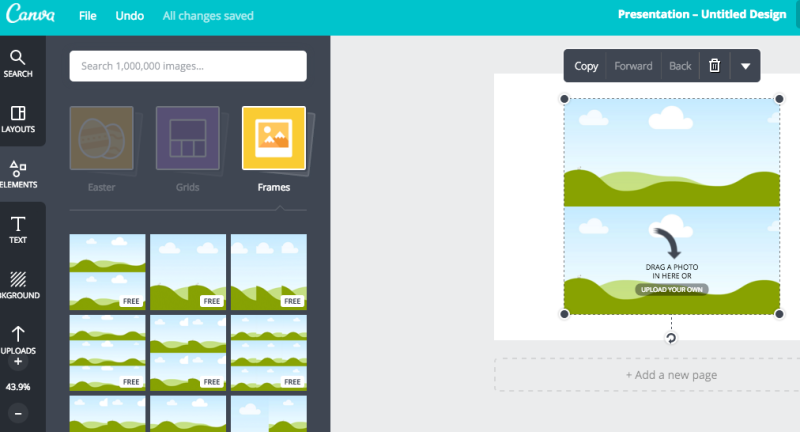 Then just choose the frame you want and once your photos have uploaded you can drag them to the frame.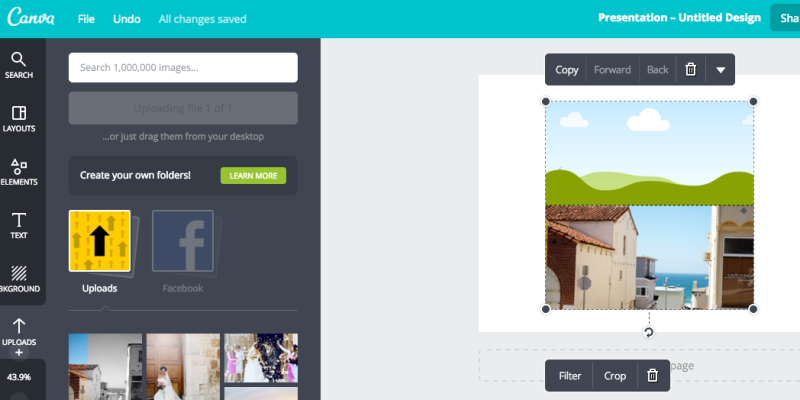 Creating your travel story with photos is so much fun! I will be doing more of them and sharing with you hopefully more often! These travel photography stories were from my trip to California last weekend at Manhattan Beach. I stopped at the closest beach to the LAX airport. Of course really anywhere you drive up and down the Pacific 1 highway there are pretty beaches. Manhattan Beach is a 15 minute drive from LAX, so if you have some extra time before your flight you should stop there. It's gorgeous and very peaceful. It's a great beach to avoid a more crowded beach like Huntington, and there were quite a few local places to eat, and cute boutiques. I wish I had had more time there.
This last Photo Story is from Cystal Cove beach near Newport. It was a beautiful day as you can tell. I was not alone, I had my wonderful friend Hepcat Hannah with me!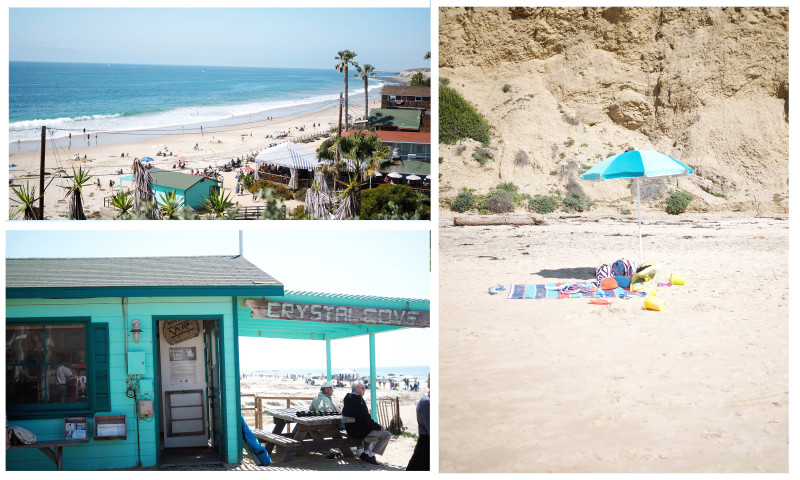 Have fun creating your own travel story photography!