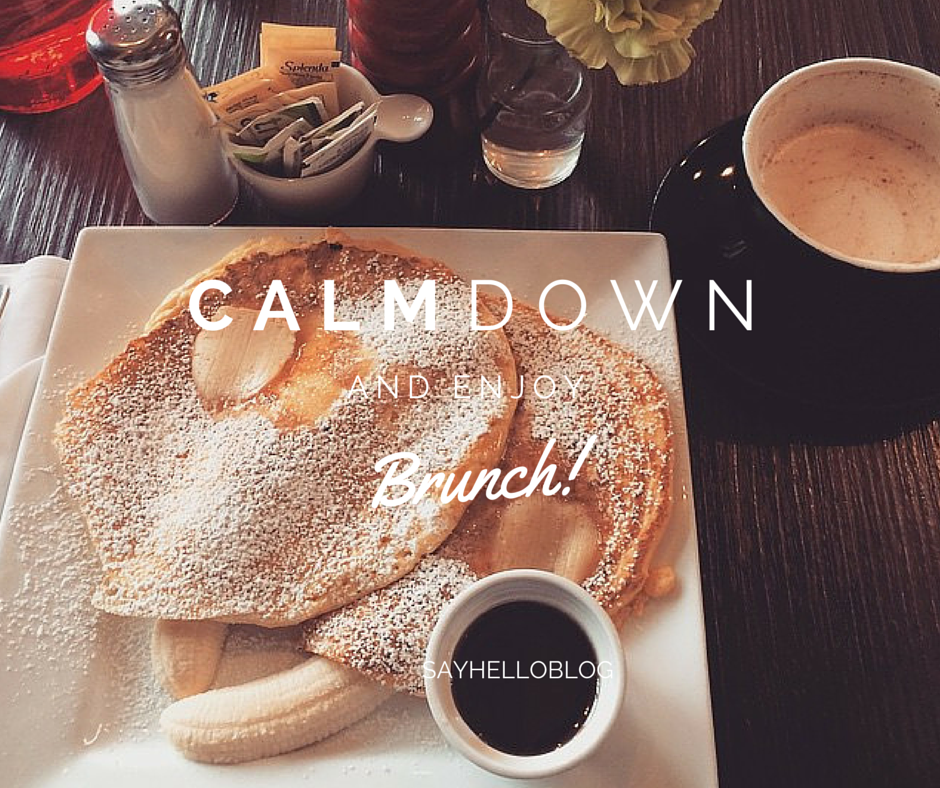 I have heard that most New Yorkers enjoy brunch, and I believe it.  Last time I visited NYC a question I got asked eluded to the fact that I might not appreciate brunch like New Yorkers do.  So I am going to dispel a few myths about Texas.  Not all of us wear cowboy boots, drive trucks, or speak with an accent.  Most importantly, at least in Dallas, we also enjoy a good brunch!  In fact, I can't say this is true for all Texans, born and bread, but my absolute favorite meal of the week is brunch!  No weekend is complete without it!
With so many restaurants that serve unique brunches in Dallas, I've lived here over 5 years and still haven't tried them all!
Here are 5 of my favorite brunches in no order because I loved them all equally:
Vagabond Greenville Ave
If you are an Eggs Benedict fan then try the Eggs Benedict Grilled Cheese.   It's Heaven, and I am dreaming of it right now! Have a $2 Mimosa, unlike most places, it's not in a tiny glass with a sip of champagne, one glass was enough for me.
Sundown at Granada Greenville Ave.
My first time having brunch at the Sundown was a couple of weeks ago, and I am dying to go back and try one of the Frittatas, which I heard are amazing.  The Greenville Ave. Benedict is so unique and literally bursting with flavor. I love a classic Eggs Benedict, but the BBQ Hollandaise sauce combined with the Swiss Chard and mushrooms, even now makes my mouth water.  It's scrumptious, and should be coud be called the Texas Benedict, it's complete with sweet potato hash browns which really are perfectly crisp on the outside but not greasy.
Jonathan's Oak Cliff
If you love a Bloody Mary, then make yourself the perfect one! One the weekends Jonathan's Build Your Own Bloody Mary Bar should start you off right!  My favorite thing to get there is the Chicken and Waffles.  Hands down, it's the best Chicken and Waffles I've tried in Dallas.
Ascension Design District
For a while now I've loved Ascension for the atmosphere and unique events, but recently found out I love their brunch as well!  Not only do they have great coffee and a great Chai Latte, but their brunch menu is so yummy.  The Ricotta Hotcakes (pictured at the top of the post) are simply perfect.  I am not a huge fan of sweet dishes for breakfast or brunch.  The Ricotta Hotcakes are just sweet enough, but I hardly feel like I had dessert for breakfast.  I could eat them every week! Also be sure and order the Mamamango to drink.  Is it the weekend yet?!
Company Cafe Lower Greenville Ave.
I've loved Migas since I first tried them in Austin more than 10 years ago.   Migas are made with scrambled eggs, and fried tortilla strips, it's all mixed in together with salsa, cilantro, sometimes some good veggies or chicken.  The best migas I've tried in Dallas so far are from Company Cafe.  I don't know what they put in the sauce but trust me it's good.
Velvet Taco Knox/Henderson
Ok, this really isn't a brunch place, but I had to put it on the list because their breakfast tacos are just that good!  I am in love!  There are three breakfast tacos, and they are served all day.  So really any time you want to have brunch, you can!  It's also the perfect place to go  if you just need a less expensive breakfast.    My favorite of the three is the Bacon, frittata taco but the Pork, chilaquile taco is a close second.  Who wouldn't want to start the day off with a breakfast taco and a Margarita?