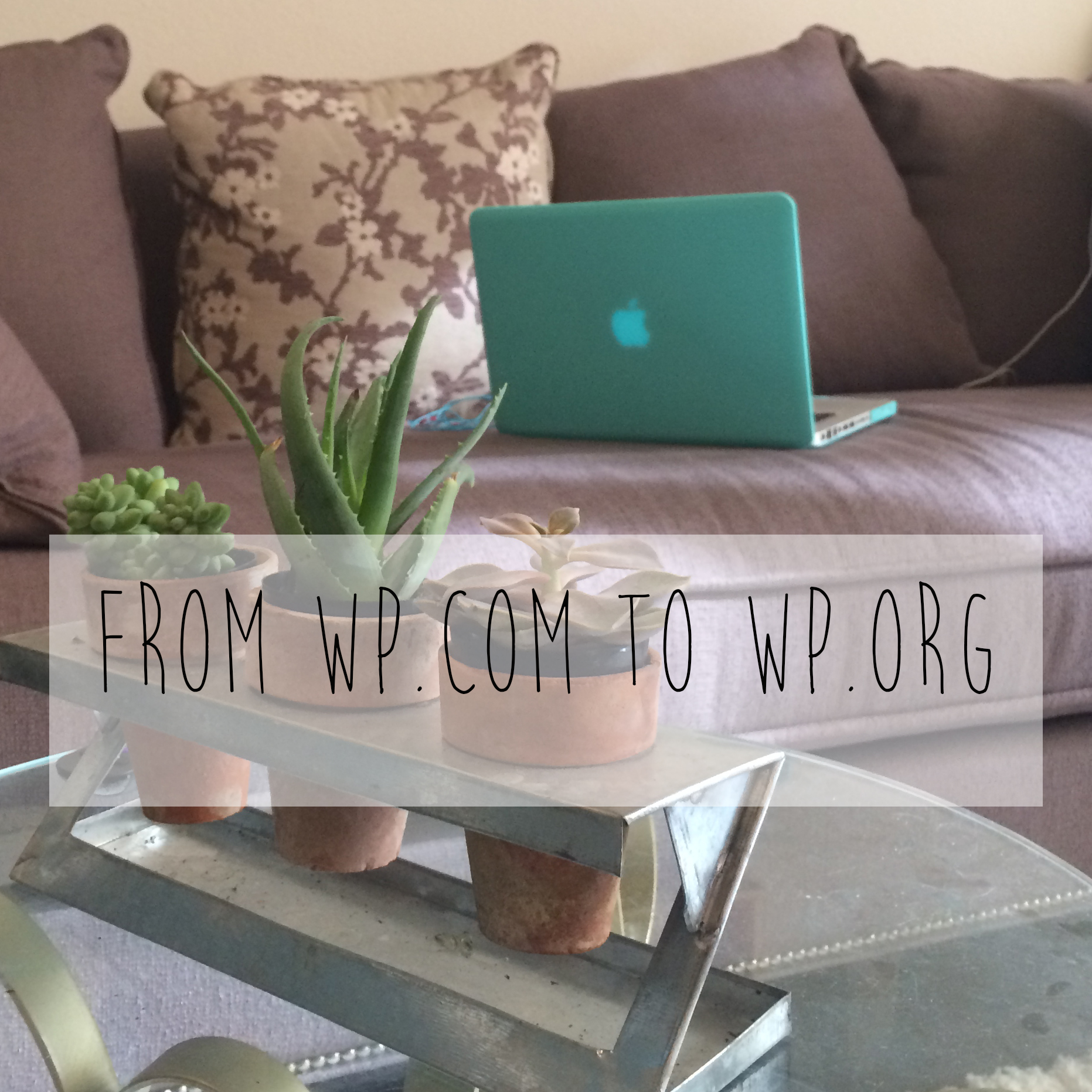 I've been with wordpress.com for little over a year.  I love blogging with WordPress.  I do wish there was a way to add fancy buttons, I haven't found one yet, but for the most part I like everything else about it.  I recently went through deciding whether to switch to Typepad (recommended by A Beautiful Mess, one of my favorite blogs),  or stick with WordPress and just move to .org.  I am still not sure if I made the right decision, sometimes my site doesn't load as fast as I want it to. Not sure what I am doing wrong yet, but I am hoping to clear that up soon.
The process from moving from wordpress.com to wordpress.org for me was fairly simple but was a few hours work.  I had to decide on a hosting site.  I chose Go Daddy because of the Managed WordPress hosting.  One thing that didn't sound appealing about switching to .org was needing to know about updating the site, making sure it wasn't attacked by web cowboys and aliens.  Yeah, I have no idea really what I would have been getting into (sounded like aliens to me).  I did a little bit of research and it seemed like too much of a hassle to have your own website and be in charge of managing the site.  I just really want to blog.  So with Go Daddy I feel like I can do that.
I bought the Meadowbrook template from Angie Makes that is beautiful. Angie Makes reminds me of a lovely pastry shop full of delicious designs, they are so pretty I almost expect to see them selling cupcakes.  I love their designs.  I do. I am working on taking the template I bought and turning it into something that is my style (whatever that is, still figuring it out).   A Beautiful Mess has a blog design class that I am trying to finish. Hopefully it will help me come up with a style and design that fits my "brand".
Finally, after buying my domain through Go Daddy, uploading my template from Angie Makes, I had to move my content from wordpress.com to wordpress.org.  I wasn't able to do this with Go Daddy, because I got in a hurry. There is a way to do it, but I now I've forgotten. So if you go through Go Daddy remember to ask them how to move the site, and they have great customer service and can probably help you do it.
I moved my site with the WordPress plugin WP advanced importer. The one thing I didn't like about that is I believe all my photos in my posts are just links back to my old site.  Which right now is fine because it works, but I eventually want to move all my photos to my new site, but I haven't looked at how to do that.  Of course how I have it now is fine, but I think that if I were to delete my old wordpres.com site then I wouldn't have my photos from my old blog posts. Hope that makes sense.  If anyone out there has some suggestions I would love for you to comment!
I immediately downloaded the WP JetPack which allows you to do pretty much everything WP.com does, like check stats.
The last thing I've done is set up Google Adsense and Analytics.  Which makes me feel pretty official. Again, not really sure how it all works. It's still new to me, but I will be researching it and I'll update you on what I find out.  Hope this is maybe a little bit helpful for someone out there!